Low-Carbon Transition
Energy Efficiency
Design buildings that conserve electricity and deploy new technologies to reduce energy consumption during ongoing operations
Renewable Energy
Seek out renewable energy solutions, including on-site solar thermal systems and renewable energy credits
Transportation
Transition guest shuttle busses to electric and clean fuel sources and leverage carbon offsets for hard-to-decarbonize air and ferry travel
Guided by the Science Based Targets initiative, we have focused our low-carbon transition strategy on reducing climate impact through energy efficiency, renewable energy and transportation.
We have several initiatives in place to reduce energy consumption. Our resorts leverage cutting-edge building technology for energy savings and our Sands ECOTracker program drives additional conservation initiatives. In 2021, 909,262 kWh energy was saved through the implementation of 5 energy efficiency projects.
Although the Macao region is spatially constrained for expansive renewable energy projects, we have committed to increasing our purchase of renewable energy certificates in nearby regions to support the transition to zero-carbon grids. We also continually search for and evaluate onsite renewable energy generation to complement our existing solar thermal system. In 2021, 40,000 MWh of renewable energy was sourced through RECs.
Water Stewardship
Water Efficiency
Upgrade fixtures and systems, enact water conservation policies and encourage sensible water usage
Water Reuse
Increase use of non-potable water for landscaping, restrooms, cooling towers and other uses
Ecosystems
Partner with regional water champions to reinvigorate biodiverse ecosystems, increase resiliency, engage communities and leverage water technologies
Our water strategy focuses on conserving water through efficiency, increasing water reuse and recycling, and protecting water ecosystems that benefit the local environment.
In 2021, we continuously evaluate ways to use non-potable water in our water features, landscaping and cooling towers and seek new opportunities to expand our water recovery systems through the water Eco Tracker Savings project.
In 2021, Drop by Drop grants from Sands China supported impactful community water projects in the areas of ecosystem reinvigoration, physical climate risk adaptation and community engagement. Our investment through the Drop by Drop Project is intended to reinvigorate local water ecosystems, while engaging the community with awareness activities.
PLASTIC & PACKAGING
Single-Use Disposables
Replace single-use products with sustainable alternatives and transition to reuse models where possible
Packaging
Reduce the environmental footprint of primary, secondary and tertiary packaging in our operations
Our action on plastic reduction
WASTE
Food Waste
Tackle one of our largest waste streams through prevention, donation and diversion
Construction Waste
Responsibly handle construction waste from new developments, remodels and renovations
Operational Waste
Recycle whenever possible and find opportunities to reduce waste generation
Addressing waste is an important element of our strategy because reduction not only conserves natural resources and protects ecological systems, it also decreases climate change impact. We tackle reducing our waste streams by consuming less when possible and reusing and recycling more. We aim to prevent or reduce the amount of food destined for the waste stream. We aim to recover food for donation to feed people and animals, and we aim to divert food from landfills and explore opportunities to generate additional value when possible.
Our waste streams are grouped into categories including food waste, operational waste and construction waste with sub-strategies to address each area.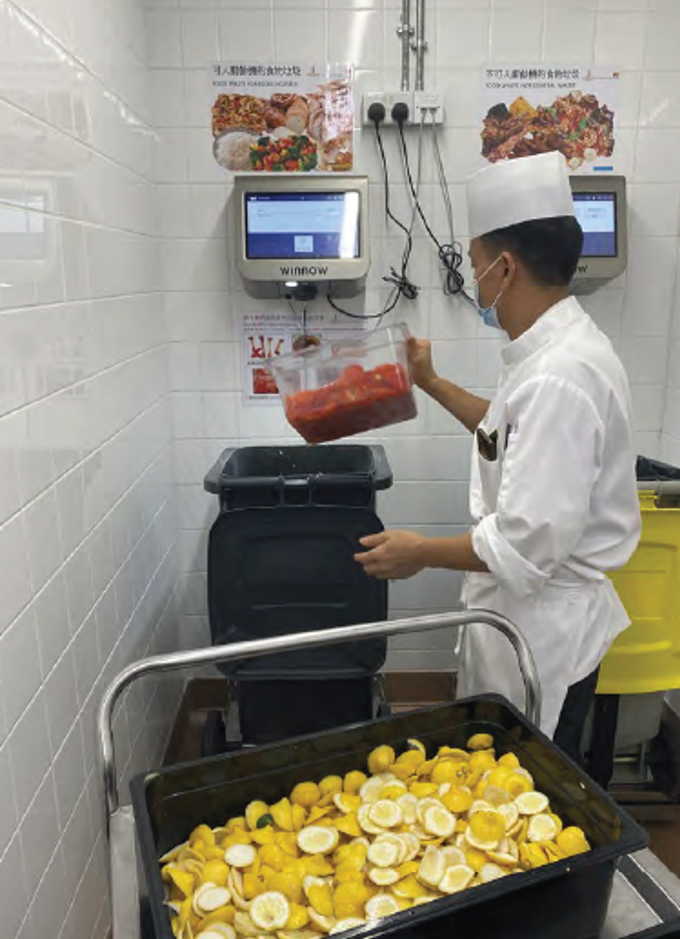 In 2021, we added three Winnow Vision artificial intelligence (AI) units to incorporate this important measurement tool at all five properties. The units provide real-time data to our committee that monitors progress and determines response, as well as to the kitchen team for menu adjustments.

In September 2021, our Clean the Office recycling campaign collected more than 1,800 kilograms of recyclable items from 57 departments.
Tackling food waste with cutting edge technology
Sourcing
SUSTAINABLE FOOD
Source eco-friendly ingredients and provide sustainable cuisine in restaurants through menu offerings curated with the planet and biodiversity in mind
BUILDING DEVELOPMENT AND RENOVATION
Integrate energy-saving technologies and environmentally preferred products and materials
RESORT OPERATIONS
Explore sustainable options for incorporation in our business processes and the guest experience
SUSTAINABLE SEAFOOD
Sustainability is embedded into all facets of our food and beverage operations, from menu curation to selecting foods with credible certifications such as organic, Aquaculture Stewardship Council, Best Aquaculture Practices, Ecocert SA and Marine Stewardship Council. We primarily target sustainable sourcing for vegetables, seafood, eggs, plant-based products and meat. At Sands China, five sustainable seafoods and one sustainable produce were added in 2021 to replace red-listed seafood. Use of free-range eggs was also introduced in 2021. We have sourced 27% of seafood sustainably, corresponding to USD$2.7M of sustainable seafood spend in 2021.