Our comprehensive corporate governance structure provides the backbone for our responsible performance. From oversight of governance practices by our Board of Directors to risk management protocols and procedures embedded throughout the organization, we ensure strict adherence to the highest standards of performance for our business as a whole and the ESG topics that intersect our Company.
We focus on:
CORPORATE GOVERNANCE
ESG GOVERNANCE
Responsible Business
Supply Chain Management
ESG GOVERNANCE
Board Statement on ESG Oversight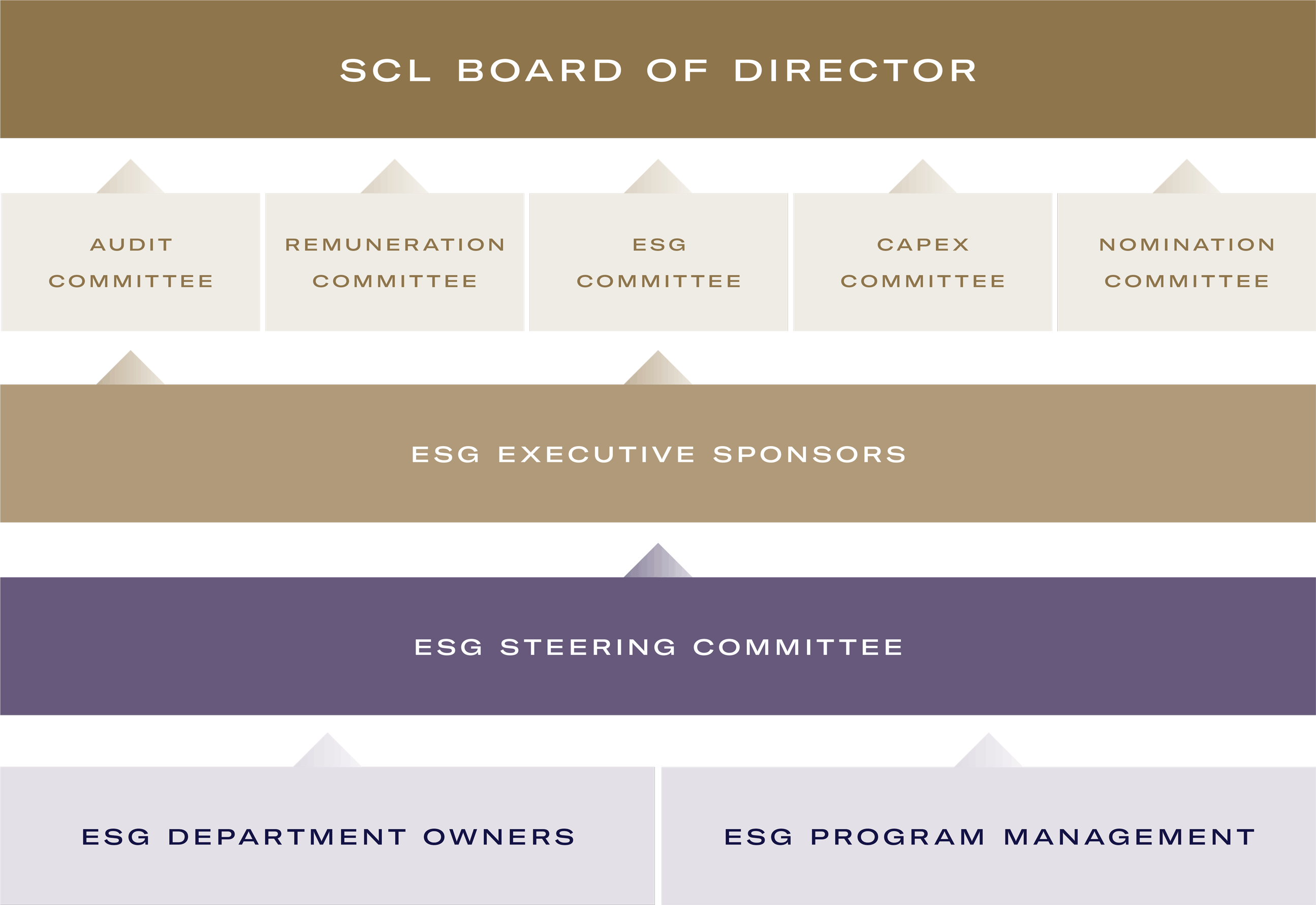 ENVIRONMENT
Our governance practices in the area of environmental sustainability are guided by the Sands ECO360 global sustainability program, which integrates operational standards and procedures across all properties and businesses. Our ESG Committee is responsible for sustainability and climate-related topics, projects and initiatives, and leads the ESG Executive Sponsors, the ESG Steering Committee and the Sustainability team by providing guidance and oversight.
SOCIAL
Governance of our People pillar initiatives in the area of workforce development falls under our Human Resources organization. Our world-class community engagement program, Sands Cares, which guides our initiatives to address the health of our community, and our DEI program are jointly managed by the Senior Vice President of Human Resources and Vice President of Corporate Communications and Community Affairs.
GOVERNANCE
The broad range of checks and balances and practical corporate governance policies and procedures are managed by Sands China's Legal and Compliance departments, under the leadership of our General Counsel and Company Secretary and Senior Vice President and Chief Compliance Officer. The Company's ERM program is the responsibility of our ERM Committee, under the review of the Audit Committee on behalf of the Board. Supply chain-related ESG topics and risks are overseen by the Chief Financial Officer.
RISK MANAGEMENT
Through a comprehensive system of reporting, controls and mitigation procedures, our ERM program allows us to manage the potential for loss as well as reduced opportunities for gains, which may adversely affect achievement of our Company's objectives. The ERM program facilitates identification of priorities through risk assessments conducted in collaboration with risk owners throughout the Company. Risk owners are then responsible for developing risk mitigation plans. Risks with potential material impact on the Company are outlined in the Sands China Annual Report. Non-material risks that are not included in the ERM process are managed and monitored by respective business units.
The Audit Committee oversees the overall enterprise risk management (ERM) program (which includes all risks with ESG related risks included in the risk inventory). The ESG Committee via the ESG program assess and manage ESG risks. Priority risks (which may include ESG risks depending on materiality) will be escalated to the Audit Committee via the ERM program, while ESG risks will be assessed and managed by the ESG Committee.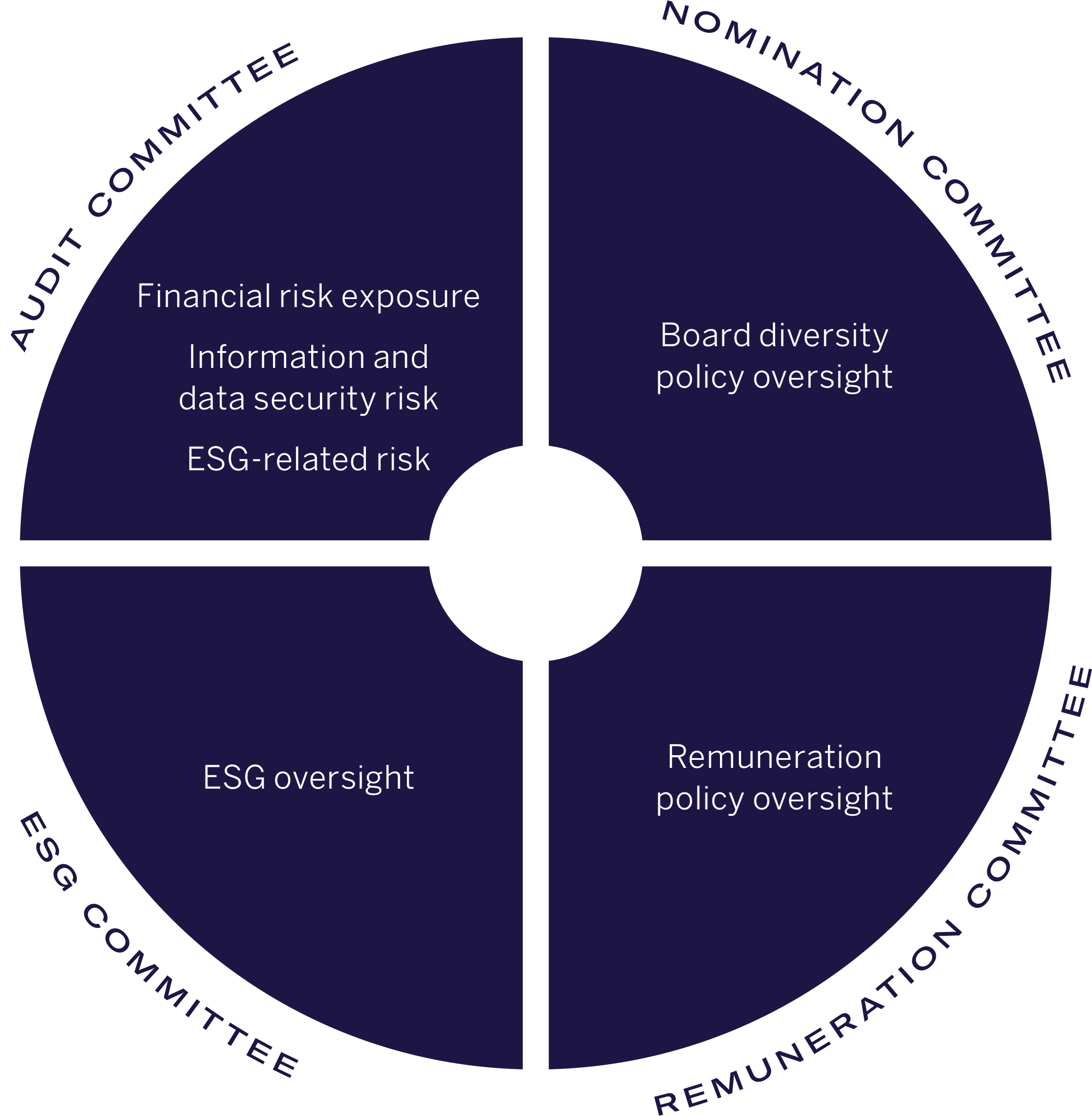 RESPONSIBLE BUSINESS
We have established a set of controls and processes to ensure responsible and ethical performance throughout the organization. Our Code of Business Conduct and Ethics mandates the overall guiding principles and actions to enforce our responsible business approach. Rounding out our practices are procedures for privacy protection, cybersecurity management and policy advocacy on issues that affect the health of our business.
GUIDING PRINCIPLES
WE RESPECT INDIVIDUALS
WE PROTECT OUR COMPANY AND OUR STAKEHOLDERS
WE DO BUSINESS ETHICALLY AND LEGALLY
WE ENHANCE OUR COMMUNITIES
SUPPLY CHAIN MANAGEMENT
Recognizing our supply chain is an extension of our Company, we have established a detailed approach to ensuring our ethics, values, governance practices and responsible business guidelines are maintained by the suppliers and partners who conduct business with Sands China. From stringent onboarding requirements to ongoing assessment and management, we work to ensure integrity throughout the value chain.