3-Day Sands Shopping Carnival Arrives This Weekend
Family-friendly carnival July 23-25 at Cotai Expo

(Macao, July 21, 2021) – The 2021 Sands Shopping Carnival is coming up this weekend, July 23-25, bringing Macao's largest shopping event of its kind back to The Venetian® Macao's Cotai Expo for a second year.

Highlights of the free-admission carnival include:
• Over 560 retail booths offering some of the best deals in town
• International-cuisine food court with eco-friendly tableware
• Games and play area for kids featuring inflatable slides, game booths, sports games, and more
• Karaoke contest
• Little Master Chef workshop
• Lucky draws

Visitors to the 21,000-square-metre Friday-Sunday carnival can enjoy browsing the exhibition's nine zones: Household Products, Parenting and Family, Gourmet, BNU Presents: Food Court, Sands Retailers, Cultural & Creative, Green Lifestyle, Bank of Communications presents: "Play and Fun" Kids Area, and Macao Original IP.

Newly added this year are the Green Lifestyle Zone, selling eco-friendly products and increasing public awareness of environmental protection, and the Macao Original IP Zone, promoting local creativity and entrepreneurship.

The BOC Smart Kids Presents: Little Master Chef Workshop brings back last year's popular food prep activity for children, led by Sands China's food and beverage team, and carnival goers can again cheer for their favourite contestants in the ICBC ePay Presents: Karaoke King Singing Competition 2021.

The Sands Shopping Carnival is open to the public noon to 10 p.m. daily July 23-25 at Cotai Expo Halls A and B. Carnival visitors can use the free parking at Cotai Expo, or take complimentary shuttle buses to and from the carnival and various points throughout the city.

The Sands Shopping Carnival also provides a convenient opportunity for local SME suppliers to enrol in the upcoming 10th intake of the Sands Procurement Academy. The free training programme shares business knowledge and skills to help groom local SME suppliers to meet international standards, helping them gain experience and capacity for working with large-scale international corporations. Carnival exhibitors can enjoy priority enrolment in the academy's upcoming cohort. The previous cohort attracted a record enrolment of 64 suppliers, many of whom were exhibitors in last year's carnival.

In support of social inclusion, Sands China has invited several local social enterprises to participate in the carnival, such as in the food court and the cultural and creative zone. The company's volunteer team, the Sands Cares Ambassadors, will also accompany members of local NGOs to enjoy the carnival.

The 2021 Sands Shopping Carnival is organised by Sands China Ltd., co-organised by the Macao Chamber of Commerce, supported by the Economic and Technological Development Bureau, the Macao Government Tourism Office, and the Macao Trade and Investment Promotion Institute, and sponsored by Bank of China Macau Branch, ICBC (Macau), BNU, and Bank of Communications Macau Branch. It supports the Macao SAR government's Consume for the Economy initiative and the newly launched e-consumption voucher scheme, in promotion of the economy of Macao and the Greater Bay Area.

In order to safeguard public health at the carnival, Sands China is once again implementing a series of strict sanitisation and safety measures to prevent the transmission of COVID-19. These include, among others: temperature checks upon entry; monitoring of crowd size to ensure a safe number of participants; mandatory face masks and health code checks; socially distanced booths; plastic partitions on food court tables; regular sanitisation and cleaning of public areas and kids' facilities; and disinfectants and hand sanitisers at all booths and at all carnival entry and exit points.

Providing an ideal shopping and leisure summer hotspot for families under one roof, the Sands Shopping Carnival aims to give back to the community by offering the best deals to Macao residents and tourists in order to stimulate domestic consumption and help boost the economy.

More information about the 2021 Sands Shopping Carnival is available at the event's official website at https://en.sandsresortsmacao.com/shopping/sands-shopping-carnival-2021.html.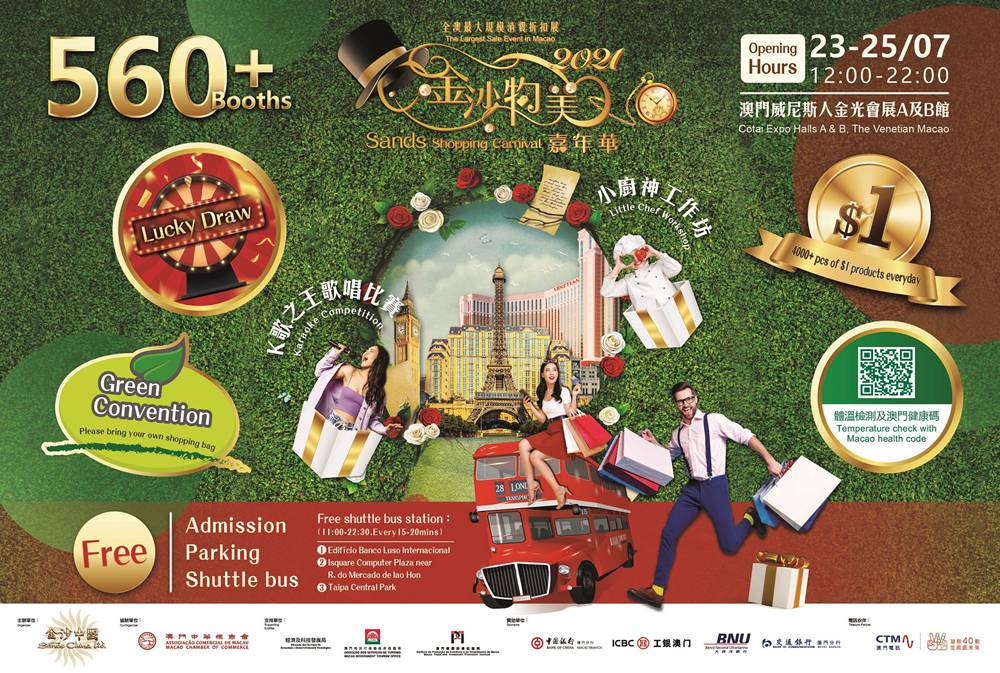 Photo caption: The free-admission 2021 Sands Shopping Carnival will be at The Venetian Macao's Cotai Expo July 23-25, bringing Macao's largest shopping event of its kind back to the city for a second year.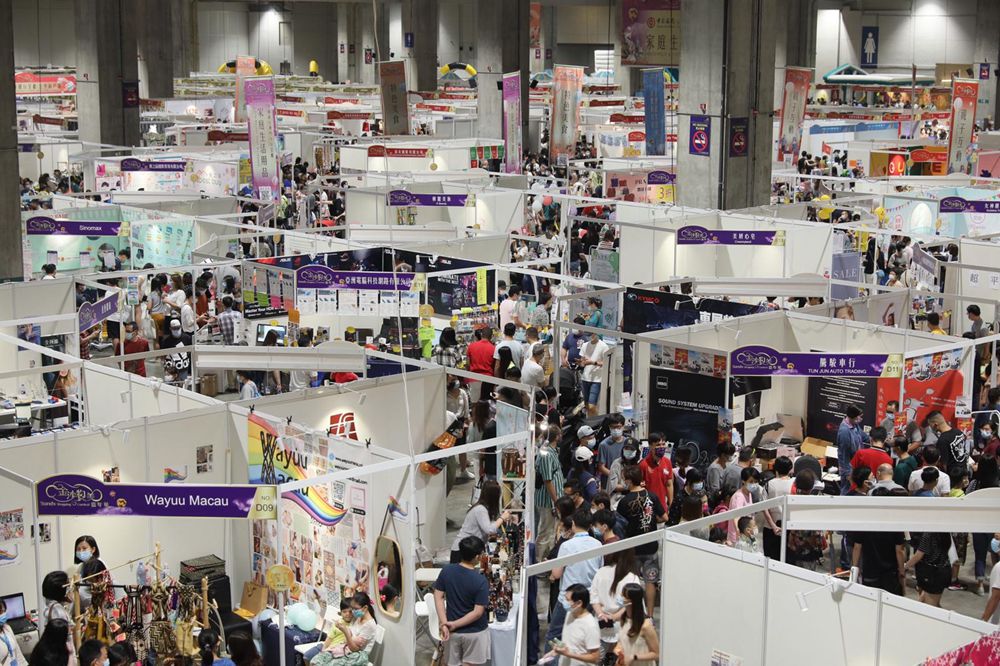 Photo caption: After the success of last year's popular Sands Shopping Carnival (pictured), locals and visitors can again enjoy a variety of fun activities and some of the best retail deals in town at the 2021 Sands Shopping Carnival July 23-25 at The Venetian Macao's Cotai Expo.