Sands China Ltd. Wins Gold in Youth Empowerment Initiative Category at PATA Gold Awards 2022
Nurturing future talent in the tourism industry through innovative program

(Macao, Oct. 7, 2022) – Sands China Ltd. has been honoured by the prestigious Pacific Asia Travel Association (PATA) Gold Awards 2022 as winner of the Youth Empowerment Initiative category at PATA's virtual awards ceremony Friday. The award recognises Sands China's City of Gourmet – Youth Development and Integration Program.

Launched in 1984, the PATA Gold Awards aims to recognise exceptional and innovative tourism initiatives in the Asia Pacific region and beyond and has become one of the most sought-after awards in the industry. The Macao Government Tourism Office (MGTO) has been its official sponsor since 1995 as a contribution to help foster a sustainable tourism industry in the region.

Wen Hongyan, senior vice president of human resources for Sands China Ltd., said: "Sands China is honoured that PATA has recognised our City of Gourmet – Youth Development and Integration Program. With our wide array of restaurants and chefs, Sands China is in an ideal position to utilise our resources to nurture skills-based human resource talent and to broaden the career horizons of youth in Macao. As we facilitate the advancement of local youth's food and beverage careers through this program, we hope to also support the sustainable development of the industry – while helping drive Macao's economic growth in order to strengthen Macao's positioning as a UNESCO Creative City of Gastronomy, World Centre of Tourism and Leisure, and Tourism Training Hub for the Greater Bay Area."

Sands China is dedicated to the development of local youth, in line with the Macao government's policy of "building Macao with talent." The City of Gourmet – Youth Development and Integration Program is part of the company's broader youth empowerment initiative, the Youth Development and Integration Program. Among its innovative series of programs, more than 20 are designed to develop young talent in the food and beverage industry during three career stages: Before Employment, Onboarding, and After Employment.

Tutors of Sands China's various programs include industry experts – like the "Godfather of Huaiyang Cuisine" Zhou Xiaoyan and Sichuan master chef Lan Minglu – who aim to guide and inspire the young generation by offering them master chef classes. These programs also aim to equip them with valuable skills for thriving in the industry through its practicum at Michelin-starred and Black Pearl restaurants.

One of those is the All-round Food & Beverage Management Program, which was jointly launched by Sands China and the Macao Labour Affairs Bureau (DSAL) in 2019 to attract young locals who are passionate about careers in F&B management. Over the course of 12-24 months, participants complete a practicum at Michelin-starred, Black Pearl or other restaurants and obtain international certifications and qualifications with Sands China's full support. Upon completion of the program, qualified young locals are promoted to restaurant assistant managers. 200 young locals have applied to date; 19 were qualified to join the program and seven of them have now become assistant managers at Sands China's restaurants.

Carolina Lou is one of them, and she said: "I was attracted to join this program because of the horizontal career development opportunities and the opportunity to obtain international certifications in the F&B industry. I started my journey as service attendant at a Chinese restaurant, then Sales and Banquet, where I was able to learn about handling an entire event. After that I rotated to a Western restaurant where I was introduced to Western dining and wine knowledge. In less than two years I have rotated through Chinese, Western, and Japanese restaurants, as well as the Catering Sales and Marketing department. I've obtained many international certifications, including in wine, coffee, customer service, and food safety. It has been an eye opening and fruitful experience. After beginning as a management trainee, I am now the assistant manager of Hiro, a Japanese restaurant at The Venetian Macao. And Sands China's investment in us hasn't stopped there; I was recently invited to join another management program focusing on the F&B area."

Sands China's dynamic hospitality talent development programs include collaborations with higher education institutes such as the Macao Institute for Tourism Studies (IFTM), which features full sponsorships for participants to obtain related certificates and opportunities for them to obtain management positions in the industry.

Apart from offering practical training programs, Sands China also fully supports and encourages its team members to attend both international and regional vocational skills competitions to broaden their horizons, and some have achieved remarkable results. In 2021, Sands China pastry sous chef Jacky Lung won the championship in the 8th Cacao Barry World Chocolate Masters – Greater China selection and will compete in the world final in France this month on behalf of China. Sands China tea master Sisera Ren also won the 2021 championship in the 8th Ming Xing Tea Specialists National Final Competition in mainland China.

The 2022 PATA Gold Awards attracted a total of 136 entries from 56 travel and tourism organisations and individuals worldwide. An international judging committee selected 25 Gold Award winners in two broad categories, Marketing, and Sustainability and Social Responsibility.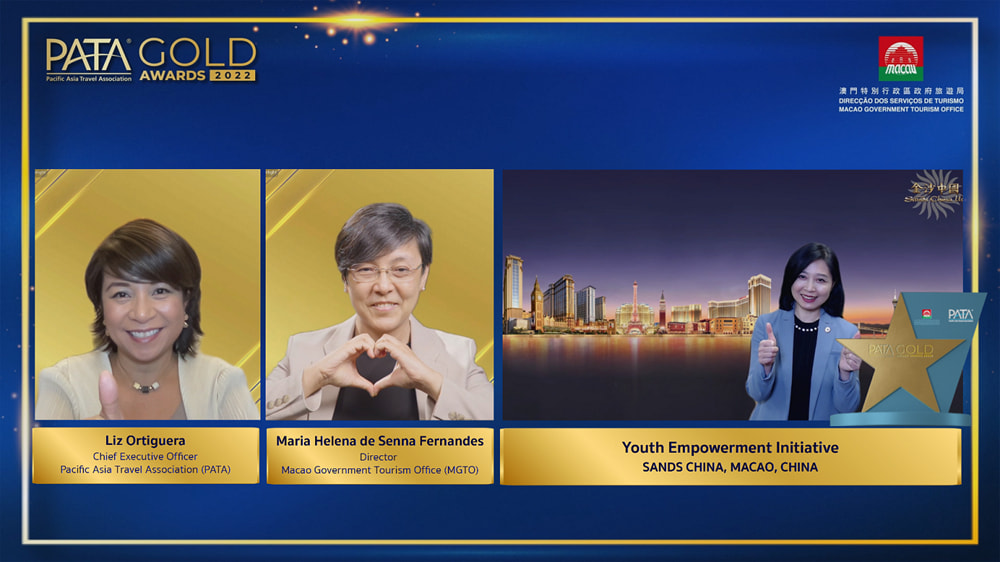 Photo caption: Wen Hongyan (right), senior vice president of human resources for Sands China Ltd., accepts Sands China's PATA Gold Award on behalf of the company from Liz Ortiguera (left), chief executive officer of PATA, and Maria Helena de Senna Fernandes (middle), director of the Macao Government Tourism Office, at a virtual awards ceremony Friday.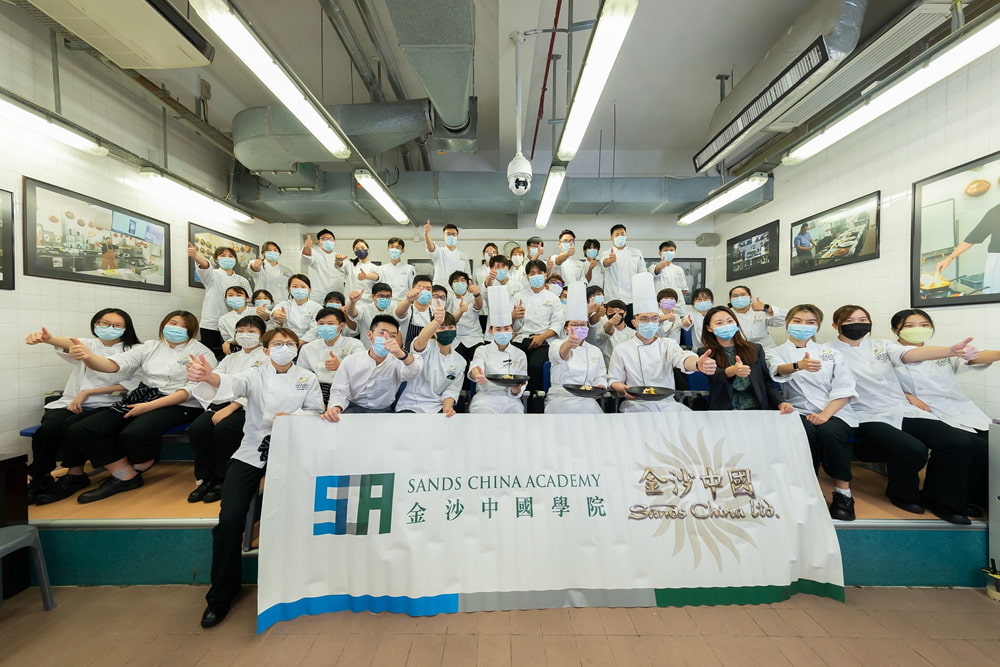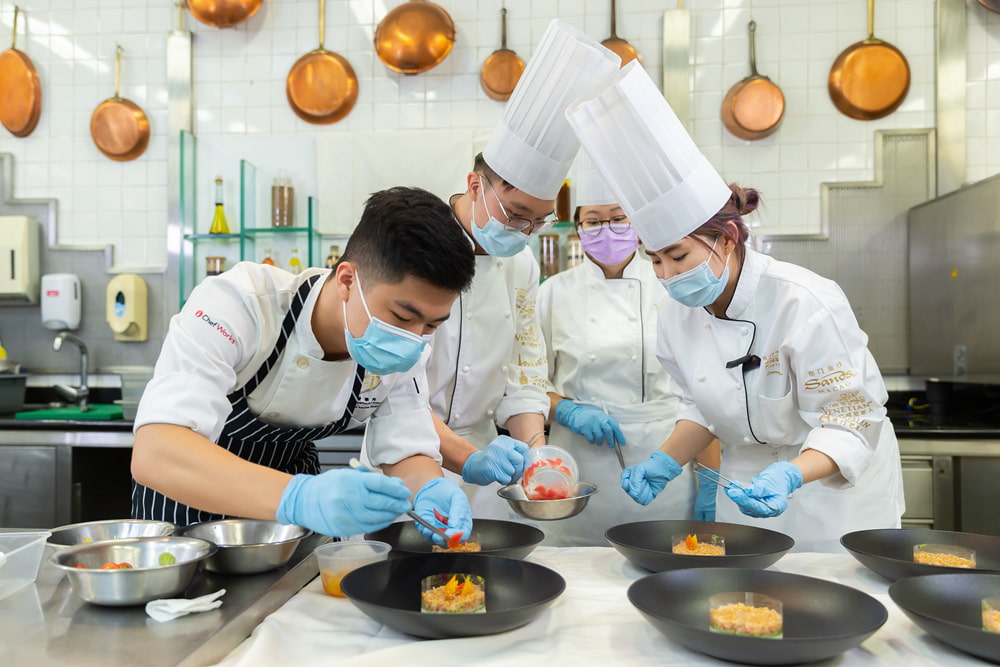 Photo caption: Sands China strives to nurture young talent in the tourism industry through innovative programs, with an aim to equip them with valuable skills for thriving in the industry.