S&P Global Ranks Sands China in Top 1% for ESG Performance
Recognised in inaugural China edition of Sustainability Yearbook 2023

(Macao, Jul 27, 2023) – S&P Global has ranked Sands China Ltd. with a Top 1% S&P Global ESG Score for China in the inaugural China edition of S&P Global's Sustainability Yearbook 2023, a testament to Sands China's impressive ESG (environmental, social and governance) achievements.

Sands China distinguished itself in the yearbook as the only integrated resort operator with a Top 1% ranking – a short list that includes outstanding companies such as Hang Seng Bank Ltd., China Everbright Environment Group Ltd., The Hong Kong and China Gas Company Ltd., and Hong Kong Exchanges and Clearing Ltd.

Nearly 1,600 companies across 60 industries from mainland China, Hong Kong and Macao were considered for inclusion in the 2023 yearbook, but only 88 companies across 44 industries were selected. Companies were evaluated based on their ESG performance in S&P Global's 2022 Corporate Sustainability Assessment (CSA). The CSA is an annual evaluation of the sustainability practices of over 10,000 companies from around the world, and focuses on sustainability criteria that are both industry-specific and financially material. From among the companies assessed by the CSA, only those performing in the top 15 percent of their industries are included in the Sustainability Yearbook.

Sands China Ltd. President Dr. Wilfred Wong said: "Sands China's long-standing commitment to corporate social responsibility is something we are very proud of, and this latest recognition by S&P Global is a welcome acknowledgment of the success of our ESG efforts. We are ever-grateful for our team members for their invaluable role in putting our sustainability strategies into practice each day. Together, we have helped make Sands China a leader in our industry as we continue our efforts to contribute to the growth, development and prosperity of the Macao community."

S&P Global had previously recognised Sands China's ESG achievements in the Dow Jones Sustainability Indices (DJSI). In 2022, Sands China was named to the DJSI World for the first year and DJSI Asia Pacific for the second consecutive year. The DJSI is one of the most highly recognised indices for corporate sustainability and is considered the gold standard for measuring and advancing global ESG efforts.

Sands China executes its ESG efforts within the context of the People, Planet and Communities pillars of parent company Las Vegas Sands' corporate social responsibility platform. A variety of initiatives include programmes such as the Sands ECO360 global sustainability programme; the Sands Cares corporate giving and community engagement programme; and the Sands China Academy, a team member professional development programme. Sands China's strong track record in sustainable business performance through the economic value and social impact it has delivered is part of its commitment to serve the Macao community and contribute to making it a better place to live and work.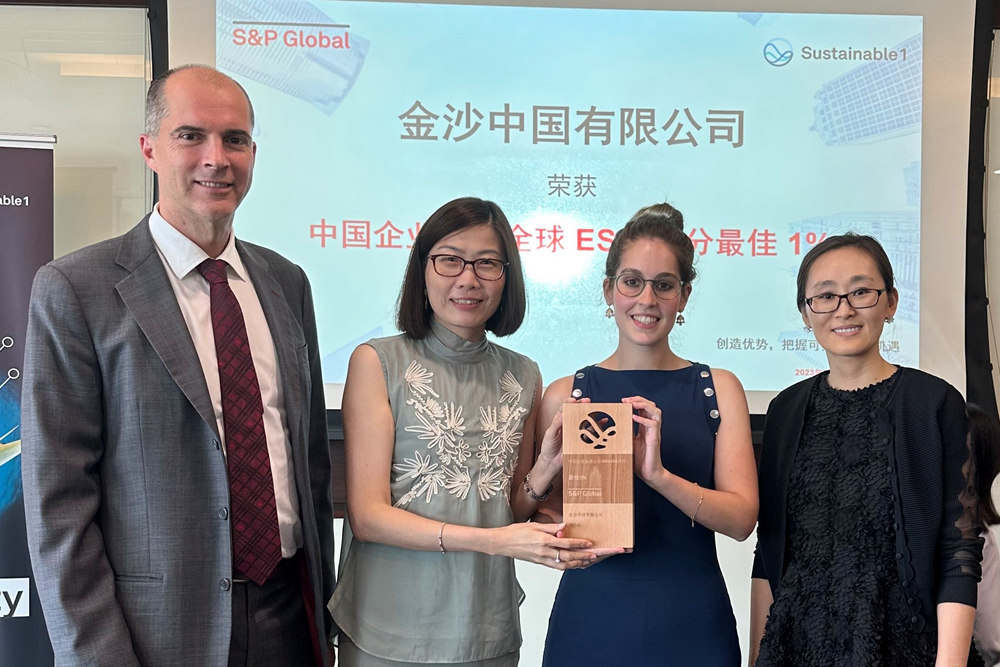 Photo caption: Sands China representatives receive the Top 1% S&P Global ESG Score award from S&P Global representatives.

Left to right: Robert Dornau, global head of corporate engagement at S&P Global; Stephanie Zhao, associate director of sustainability for Sands China Ltd.; Catia Silva, manager of ESG – sustainability for Sands China Ltd.; Huang Zhi, chairman of S&P Global.