Sands Procurement Academy Inaugurates Fifth Group of Local SME Suppliers
Programme helps prepare local SME suppliers for more procurement opportunities

(Macao, May 28, 2019) – Sands China Ltd. held an inauguration ceremony Monday at The Venetian® Macao's Adelson Advanced Education Centre for the fifth group of local SME suppliers to join the Sands Procurement Academy. The event was co-organised with the Macao Chamber of Commerce and the Macau Productivity and Technology Centre (CPTTM).

The Sands Procurement Academy is an initiative to develop local suppliers through the sharing of business knowledge and skills. Suppliers are then able to gain experience and capacity for working with large-scale international customers like Sands China. Four types of local SME suppliers are targeted by the academy: small- and medium-sized enterprises (SMEs), micro-enterprises, Macao young entrepreneurs, and "Made-in-Macao" enterprises.

Feedback from past participants has been extremely positive, as the programme is the first of its kind in the industry, and is focused on practical knowledge.

Monday's event inaugurated 30 suppliers into the academy. These suppliers enrolled in the academy at a booth set up at Sands China's April 10 SME Open Day, which saw a total of 70 suppliers enrol in the programme. The remaining 40 suppliers will join the next round of training later this year. Companies are able to send up to two representatives to take the academy's training modules.

Around 115 local SME suppliers have graduated from the academy to date. Monday's new cohort of 30 will complete their training modules in June.

"Sands China is very pleased to be welcoming our fifth group of local SME suppliers to this valuable programme," said Charlie Cai, vice president of procurement and supply chain. "The Sands Procurement Academy represents our long-term commitment to supporting local SME suppliers, and we look forward to continued positive results from this important initiative."

The Sands Procurement Academy supports the third pillar of Sands China's F.I.T. programme, which offers Financial Support, Invitational Matching, and Training and Development. Part of Sands China's Local Small, Medium and Micro Suppliers Support Programme, F.I.T. aims to continually increase and strengthen procurement between Sands China and local SME suppliers. This is accomplished by enhancing suppliers' capabilities, targeting both existing and new local Sands China suppliers.

The Sands Procurement Academy provides tailor-made practical training modules to local SMEs. Lecturers with various areas of expertise facilitate the modules, which cover seven topics: effective warehouse operations, quality assurance, logistics management, procurement process and system overview, procurement contracts, supplier code of conduct, and the eight disciplines (8D) model of problem solving – the latter led by a CPTTM lecturer.

Suppliers who complete the academy's coursework receive a certificate upon graduation and are given preferential procurement opportunities under otherwise equal circumstances.

Sands China's Local Small, Medium and Micro Suppliers Support Programme is in line with the Macao government's initiative to "buy local" and demonstrates Sands China's commitment to supporting local enterprises as part of the company's corporate social responsibility efforts. It is part of Sands China's supplier relationship management strategy, which guides the company's long-standing effort to support local suppliers, whom it views as its strategic partners.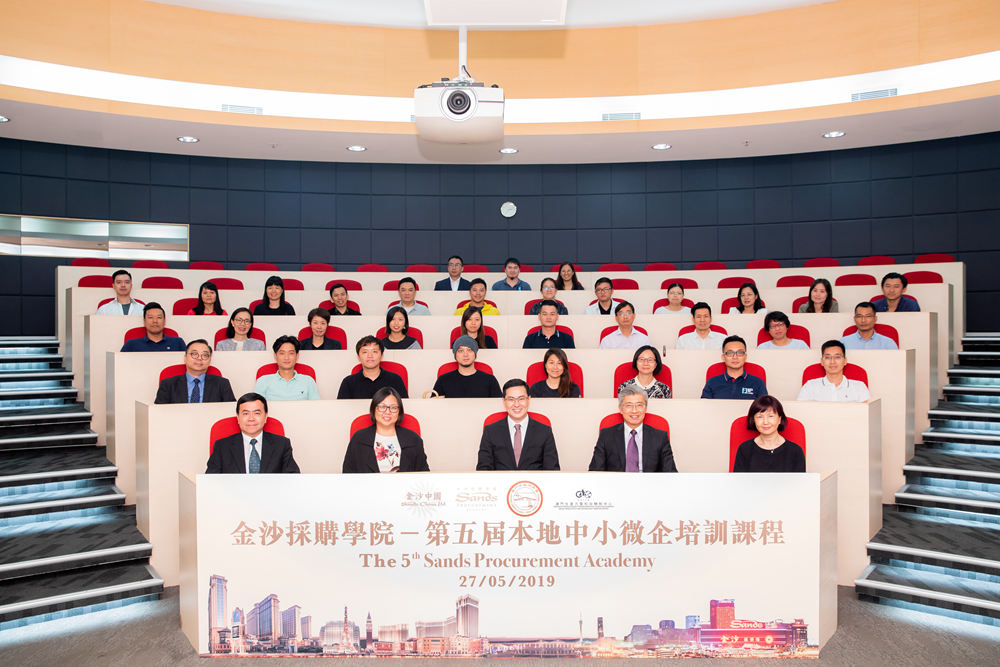 Photo caption: Sands China inaugurates its fifth cohort of local SME suppliers into the Sands Procurement Academy Monday at The Venetian Macao's Adelson Advanced Education Centre. A total of 30 suppliers are participating in the latest session of the training programme.