Sands Retail Academy Honours 8th Graduating Class
More than 200 retail employees complete customer service training modules

(Macao, November 19, 2019) – A group of over 200 employees from among the retailers at Sands Shoppes Macao were recognised at a graduation ceremony for the Sands Retail Academy Tuesday at the Four Seasons Hotel Macao, Cotai Strip.

The group of retail employees represent over 50 well-known brands from several retail categories, such as fashion, watch and jewellery, and general retail. This is the eighth group of graduates to complete the Sands Retail Academy customer service training programme.

The aim of the academy is to offer service and management training for the employees of Sands Shoppes Macao retailers, in order to promote the ongoing enhancement of the consumer shopping experience and strengthen service quality in Macao's retail industry.

Tuesday's group of graduates completed three of the academy's complimentary training programmes: Service Enhancement, with over 110 graduates; Because We Care core values, with more than 50 graduates; and the debut of the new Manager Competence Development module, with more than 30 graduates.

"Sands China is very pleased with the ongoing success of this valuable programme to support our retail partners with service and leadership training for their team members," said David Sylvester, executive vice president of global retail for Las Vegas Sands Corp. "There continues to be great interest from retailers to enrol their teams to train with the Sands Retail Academy, and we are glad to be in a position to be able to provide this service. We hope this important initiative continues to contribute to Macao's growth as a world centre of tourism and leisure by enhancing the skills and knowledge of its retail professionals, who serve as frontline ambassadors for the city."

The academy launched in November 2013, and has seen more than 9,500 retail employees participate in its programmes and workshops. It is targeted to retailers of Sands Shoppes Macao – the interconnected group of malls comprising Shoppes at Venetian, Shoppes at Four Seasons, Shoppes at Cotai Central, and Shoppes at Parisian, together with Shoppes at Sands Macao on the Macao peninsula, which together feature more than 850 retailers.

Other initiatives of the Sands Retail Academy include the "Celebrity Mentor" Workshop Series, which launched in October 2018 in cooperation with the Macao Government Tourist Office. The series has featured several celebrities providing training to Sands Shoppes Macao retail staff on areas of their expertise, including sessions by Astrid Chan on the creation of personal branding, Brian Cha on sales and consumer behaviour, and Cheung Wai Tsz on power communication skills.

The Sands Retail Academy is the result of a collaborative effort between Sands Retail and Sands China's human resources department. It is one of the initiatives of the larger Sands China Academy – a programme focused on the career development of both Sands China team members and local Macao talent, including those employed by Sands China's retail partners.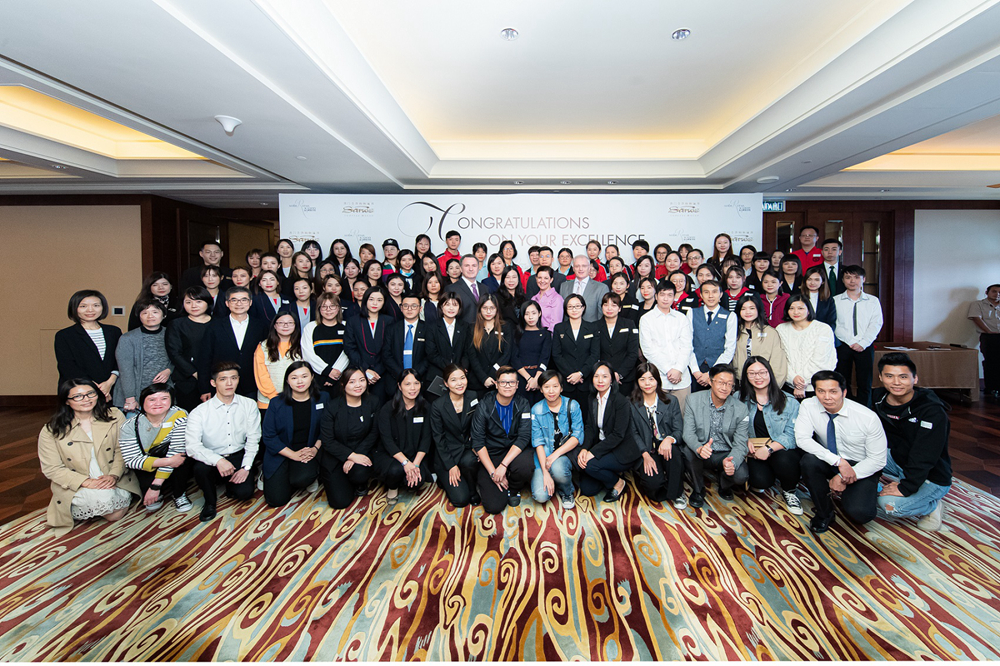 Photo caption: Retail professionals from Sands Shoppes Macao attend the Sands Retail Academy graduation ceremony Tuesday at the Four Seasons Hotel Macao, Cotai Strip, with Sands China management in attendance.