Sands Shopping Carnival Wins Innovative Exhibition Award
Largest shopping event in Macao history

(Macao, Dec. 17, 2020) – The Sands Shopping Carnival is a winner of the Innovative Exhibition Award in the Macao Convention and Exhibition Commendation Awards 2020, which was held Dec. 16 at Macau Tower.

Organised by Macao Convention and Exhibition Association (MCEA), the awards event supports Macao's positioning as "One Centre, One Platform, One Base" and aims to become an annual MICE industry event in Macao.

The Innovative Exhibition Award recognises outstanding performance in exhibition planning and event organisation, in carrying out marketing strategies, and in demonstrating the spirit of innovation with a new exhibition that has achieved market effectiveness while bringing in new elements.

"Sands China Ltd. is honoured to receive this award for the Sands Shopping Carnival – an event of historical and revolutionary significance in Macao," said Dr. Wilfred Wong, president of Sands China Ltd. "It achieved the government's Consume for the Economy objective and encouraged the use of the second round of e-consumption vouchers. It brought together a rare convergence of products from local SMEs and international brands to create a synergistic effect, in which exhibitors were given a free platform to create more business opportunities. We are thankful for this award and grateful for the collaborative efforts of the event co-organiser, supporting entities, business partners, and team members, all of which greatly contributed to the carnival's success."

In a creative effort to support the Macao SAR government's Consume for the Economy initiative, Sands China created the carnival as a way to do that while implementing pandemic-related sanitisation and safety protocols to ensure a safe and worry-free environment. The carnival was offered as a free business platform for local SMEs and Sands retailers amid the pandemic period, while creating a new weekend destination for local residents and tourists.

The Aug. 7-9 Sands Shopping Carnival was the largest shopping event of its kind in Macao. The indoor carnival at The Venetian® Macao's Cotai Expo featured 518 booths and saw visitation surpass 100,000 over the three-day event.

It featured a karaoke contest, Little Master Chef Workshop, international-cuisine food area, performances, lucky draws, MOP 1 products, deals up to 80 per cent off, and family-friendly activities and games.

The Macao Convention and Exhibition Commendation Awards 2020 aligns with the urban development plan of the Greater Bay Area and supports the Macao SAR government's promotion of the MICE industry. It acknowledges the strength of local MICE events and aims to improve the Macao MICE industry's regional competitiveness and international influence.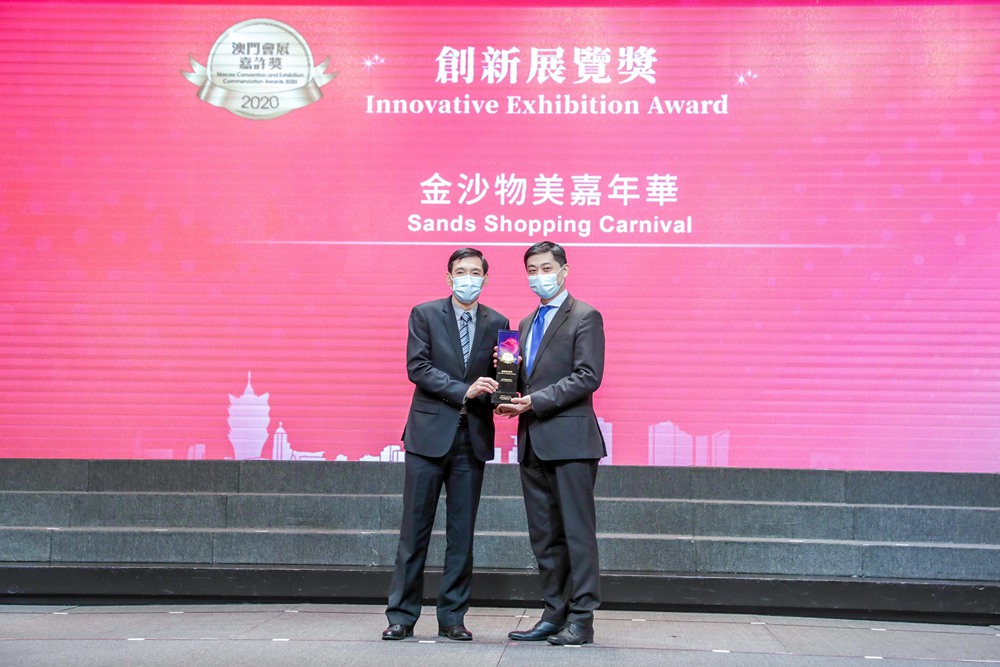 Photo caption: Julian Chow (right), senior vice president of special projects, product strategy and development for Venetian Macau Limited, accepts the Innovative Exhibition Award, awarded to the Sands Shopping Carnival, at the Macao Convention and Exhibition Commendation Awards 2020 Dec. 16 at Macau Tower.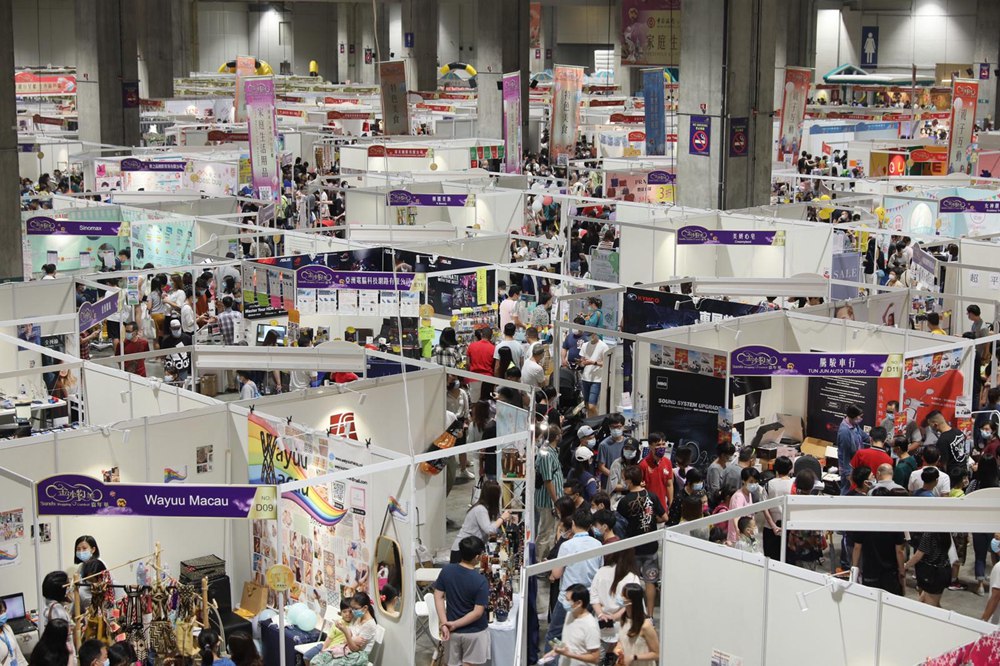 Photo caption: Visitors enjoy the Sands Shopping Carnival at The Venetian Macao's Cotai Expo. The successful three-day event recorded more than 100,000 visits.