Londoner Court Completes Successful Fire Drill
Emergency response measures in place for Sands China's new residential-style hotel

(Macao, Jan. 29, 2020) – A large-scale fire drill was completed successfully Friday at Londoner Court, the new luxury residential-style all-suite hotel at The Londoner® Macao – Sands China Ltd.'s bold British-themed reimagining of the Sands® Cotai Central integrated resort, opening progressively in 2021.

Around 200 team members participated in the 11 a.m. fire drill, demonstrating the emergency-response readiness of the hotel, which is scheduled to open later this year.

The drill began with a simulated 11th floor hotel room fire caused by a cigarette butt, including one simulated injury. Alarms were activated and an evacuation announcement was made to all departments. Participating team members responded promptly and safely evacuated the building to gather at designated outdoor assembly areas.

The Macao Fire Services Bureau dispatched two ambulances, four fire engines, and 28 fire fighters to the hotel. As part of the simulation, one team member received medical attention at the assembly area for smoke inhalation.

"The safety of our guests, visitors, and team members are at the top of Sands China's priorities," said Brian Taylor, the company's executive director of occupational health and safety. "Friday's fire drill was an opportunity to practice emergency procedures in a simulated but safe environment, ensuring that team members are prepared to swiftly and competently respond to a fire incident. Our thanks go to the Fire Services Bureau and the Public Security Police Force for their cooperation and support, and to our team members for their excellent response."

The all-suite Londoner Court features approximately 370 luxury suites at The Londoner Macao, which offers the best of British history and culture alongside a traditional yet contemporary hospitality experience.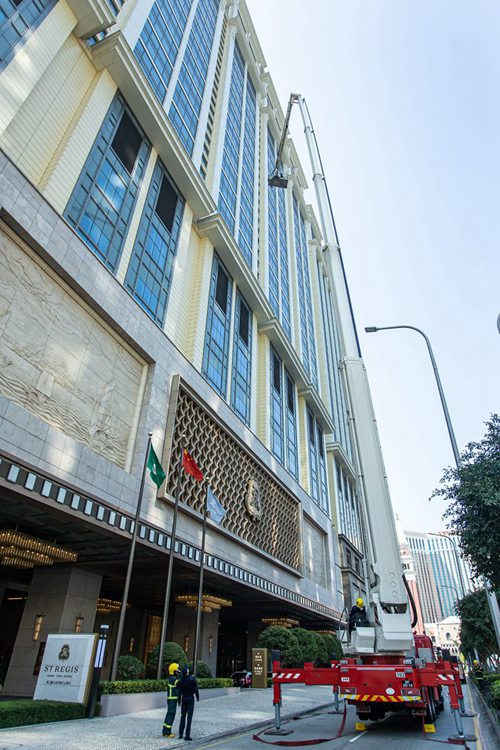 Photo caption: Around 200 team members participate in a large-scale fire drill Friday at Londoner Court, the new luxury residential-style all-suite hotel at The Londoner Macao.