SANDS PROCUREMENT ACADEMY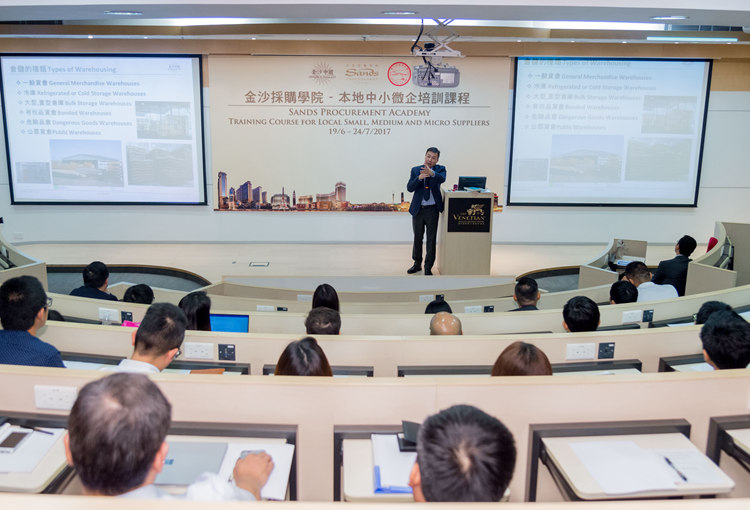 The 14th Cohort of the Sands Procurement Academy is Now Open for Enrolment!
Co-organised with the Macao Chamber of Commerce and the Macau Productivity and Technology Centre (CPTTM) in 2017, the Sands Procurement Academy promotes the development of local SME suppliers by sharing business knowledge and skills. The academy's goal is to help SMEs gain experience and capacity for working with large-scale international corporations like Sands China. Since the founding of the academy, over 400 suppliers have graduated from the programme.
The Sands Procurement Academy is a first-of-its-kind industry training and targets four categories of local suppliers: small- and medium-sized enterprises (SMEs), micro-enterprises, Macao young entrepreneurs, and "Made-in-Macao" enterprises.
Participating local SME suppliers learn through tailor-made practical training modules, presented by lecturers with diverse areas of expertise. The programme's modules comprise six topics: quality assurance, Macao labour law fundamentals, logistics management, procurement process and system overview, supplier code of conduct, and procurement contract basics.
Enrolment in the Sands Procurement Academy is now open to local SMEs until 15 September 2023 and is free of charge.
The 14th cohort of suppliers will participate in the academy between 2 November to 30 November 2023, every Thursday afternoon at the Adelson Advanced Education Center at The Venetian Macao.
The maximum enrolment capacity is 40. If the number of applicants exceeds capacity, Sands China will draw lots for the selection and applicants that are not selected this time will be prioritized for enrolment in the next cohort of the academy.
Please follow the link provided below to fill out the enrolment form and return it to SME_Info@sands.com.mo on or before 15 September 2023. For enquiries, please contact Ms. Eva Wong at +853 8118 7866.
The Sands Procurement Academy supports the third pillar of the Sands China's F.I.T. programme, which offers Financial Support, Invitational Matching, and Training and Development. F.I.T. targets both existing and new local Sands China suppliers as part of Sands China's Local Small, Medium and Micro Suppliers Support Programme. It seeks to continually increase and strengthen procurement between Sands China and local SME suppliers by enhancing their capabilities.
Previous cohort: